The aromatic poly-amide fiber is used as a special fiber, aramid fiber felt, which is made by special non-woven fabric process.
The main material U.S. DuPont Nomex, Japan Conex and Chinese Yantai aramid etc..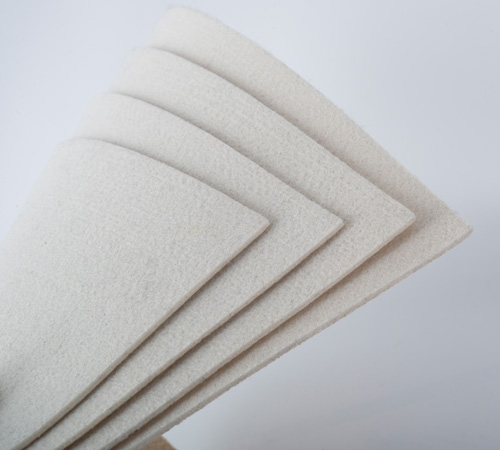 Aramid felt characteristics:
1.Density: 1.3g/cm3
2.Fracture strength: 4.9g/d
3.Limiting oxygen index: 29
4.Non thermoplastic, non spontaneous combustion, It's able to be singe but no glazed.
5.Filtration performance: can withstand 200 degrees in dry conditions
6.Hydrolysis: high temperature and in organic chemical composition and water will soon hydrolysis and damage;
7.Lifetime:---2 years
A.Water concentration 10%, acidic/Neutral, working temperature under 190degree
B.Water concentration 20%, acidic/Neutral, working temperature under 165degree
8. Bad performance against SOX erosion, so it can not be used in sulfur coal fired power plants.
Application:
1. Cement kiln dedusting system
2. Building materials industry
3. Dust removal in plaster drying system
4. The blast furnace gas of a partial steel plant
5. Asphalt mixing station dedusting system
Aramid felt parameter table
Code Name

WT

Density

Thickness

Roll Width

Roll Length

Thermal conductivitycoefficient

Moisture

Limit Oxygen Index

(kg/m3)

(g/㎡)

(mm)

(mm)

(mm)

(W/m.k)

(%)

(LOI%)

DWD-AF

120-180

300-1000

1~25

50-2200

5000

0.04

4.5

29
Remark: We always provided the products customization service.